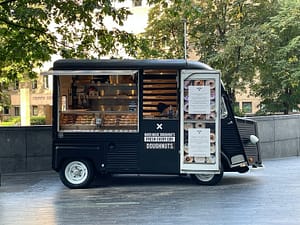 Should you buy a food truck?
The way we eat out has greatly changed in the last decade. Once we saved full-service family restaurants for special occasions. Fast food gave way to "fast casual" eateries. More recently, food trucks have enjoyed popularity. COVID has also changed how we eat, with a rise in curbside and drive-thru service. If you are looking to sell your food truck read on.
Do you have a favorite food truck? We see them everywhere, in parking lots and at festivals. Many sell novelty foods like doughnuts and ice cream. Others provide unique and experimental cuisines. Some are permanently moored, others travel. Food trucks are a flexible and fun business model. It's no surprise entrepreneurs are researching the possibilities.
If you plan to buy a food service business in Sarasota, you have choices. You may buy into a well-known franchise. An established local eatery may be for sale. Of course, you can also buy a food truck for your niche cuisine. Which is the right choice for you, however?
Take into consideration the advantages of both prospects:
Buying a Food Truck
Food trucks are currently popular
Operational costs may be lower
Ideal if you want to be "hands-on"
Potential for building a following
Potential for expansion
Buying a Restaurant
A set location makes it easy to market
Potential for established patronage
Hiring trusted employees gives you time to yourself
Ability to create expanded menu of offerings
Resale value may be greater
A Sarasota business broker can assist you in making the right decision for your needs. Steve Van Leeuwen has helped entrepreneurs around the country realize their business dreams. Contact Steve today to help you facilitate the purchase of your dream food service business.